Free text generator – a Chat GPT powered AI tool.
The AI writing tool is a software application designed to help you create automated content utilizing the power of artificial intelligence and machine learning algorithms. Submit your topic (this can be a single keyword or a describing sentence), select the preferred content type and use the additional options to create content that fits your needs. Some of the content types that you can create include a Blog article section, a How-to guide, an Expert review, a Recipe, a Product description and more…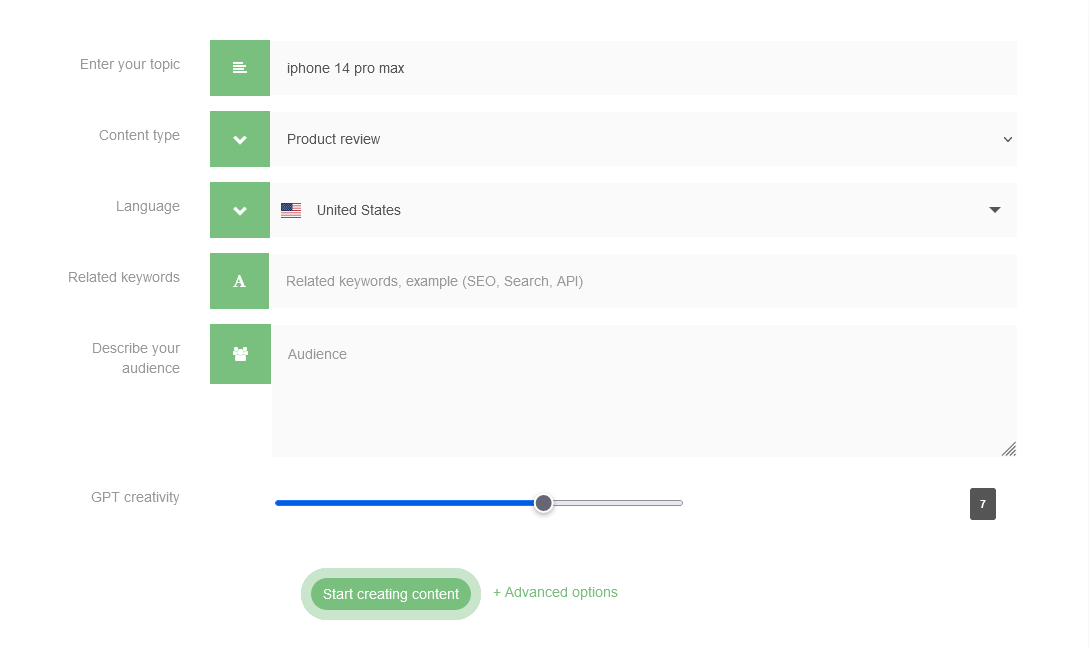 Use case example
The AI writing tool isn't designed to create long form content out of the box especially because AI doesn't perform that well when asked to do so with just a single command. By cutting up the prompt into multiple steps you can however create an blog post or long form article by providing the AI with highly detailed instructions. Here is a workflow example.
Start off with performing some basic keyword research, using the available keyword options.
Create a content outline with the help of the keywords from the previous step.
Adjust the content outline to your likings.
Enter each heading from the outline to create relevant and specific content sections.
Rewrite the content where needed.
Generate a Title tag for your article
And finally generate a Meta description
TIP: Use the AI Content Brief Generator to automate the first 3 steps of the suggested workflow.
Input options
The free AI content writer features 6 distinct input choices to aid in your writing process.
The Topic (this can be a single keyword or a describing sentence)
The content type
The output language selector
Related keywords to generate relevant content
5 Title suggestions
Audience description field
And the creativity slider
TIP: Use the SEO Content Analysis tool to convert your content brief into a SEO friendly article
Content types
These are the content types that you can create with the AI writing tool
Content creation
Blog article section
News article section
Landing page section
How-to guide
Troubleshooting guide
Expert review
Recipe
Product description
Product review
And additionally you have the ability to create writing inspiration (for example blog title ideas), SEO elements (think of keyword research) and Content elements (like FAQ, expert quotes and much more).