Free Link Building Tool – Find link opportunities
Use the Link building tool by SEO Review Tools to find the best link building opportunities in Google. Enter your main focus keyword and the select the most relevant category / industry, to get a broad range of link building suggestions.
Running the tool will save you valuable time and present you with a lot a link building ideas, you would have otherwise probably missed out on.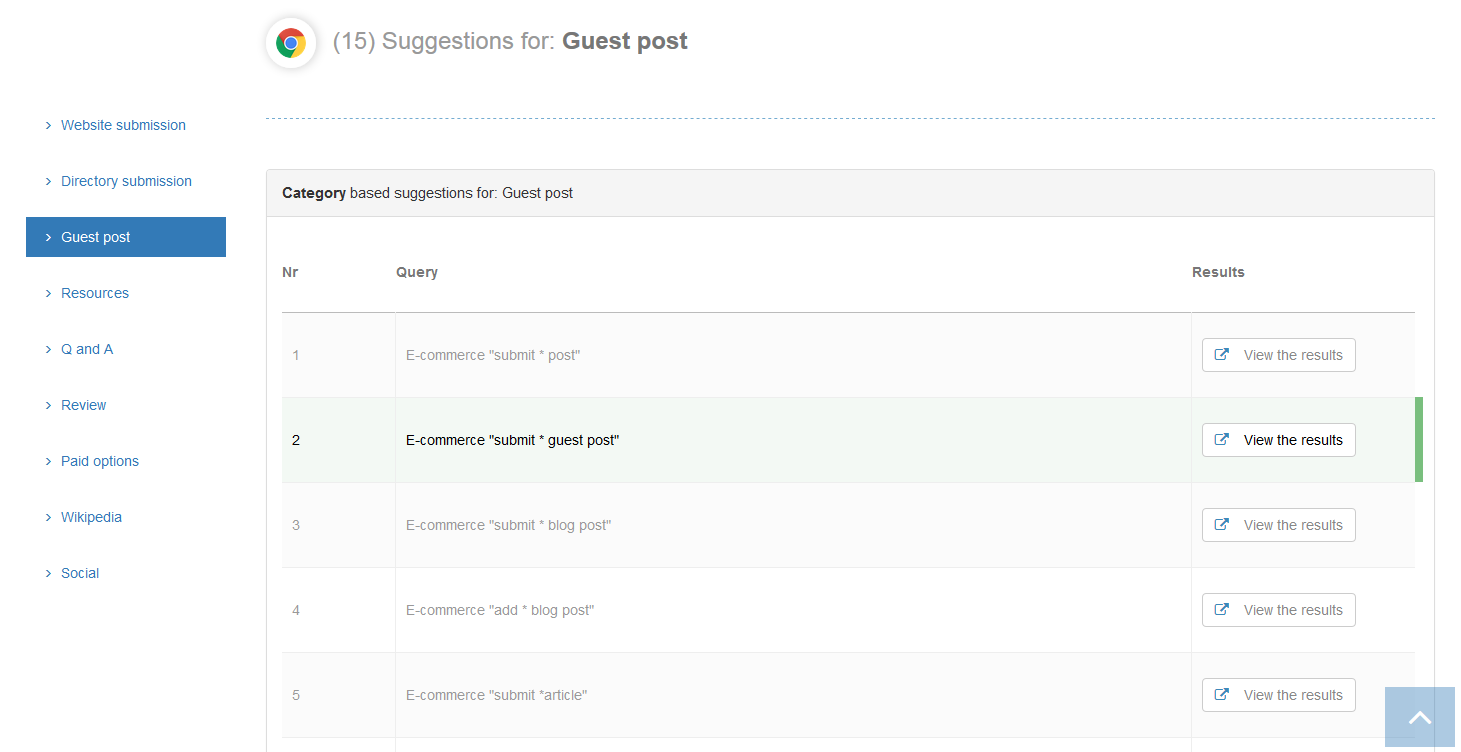 What is link building and why is link building important for your business ?
What is link building?
"Link building can increase the number of high-quality links pointing to a website, in turn increasing the likelihood of the website ranking highly in search engine results. Link building is also a proven marketing tactic for increasing brand awareness." – Wikipedia
In addition to this description by Wikipedia, I recommend reading this article which explains why link building / backlinks are important (including research and quotes from Google).
To summarize why link building is so important for any website, link building helps to:
Improve search engine rankings
Build relationships
Receive referral traffic
Build a brand
How to use the Link building tool?
The functionality offered by this tool is pretty straight forward, but here are a couple of quick tips to get you going.
1. Enter your Link building target keyword
When entering your keyword it's important to keep a broad perspective. To do this it's best to start off with general keywords. From this starting point you can get more and more specific with the keywords you select.
Example workflow:
> Broad keyword = Online marketing > More specific keyword = SEO > Keyword phrase = SEO freelancer.
2. Select your category
As explained above this tool is most effective when starting with a broad focus. And to help you with this I preselected a list of categories you can choose from. This category selection will automatically be used to generate additional link building idea's (selecting a category is optional).
Additional features
This tool will automatically set the number of search results from 10 to 100 to save you time when scanning trough the results.
The query will be depersonalized by adding the "pws=0" query parameter.
Nofollow vs dofollow
Links with the attribute nofollow (rel="nofollow") don't pass SEO value according to Google. This means you're focusing on normal links (dofollow) links when possible. That being said, nofollow links can be extremely valuable like a link from Wikipedia.
Link Building Strategies
The free linkbuilding tool will generate multiple query suggestions grouped by topic and strategy.
Website submission
When you're working on a new website this is probably the first tab you should investigate to find website in your industry where you can get submit a link or website.
Directory submission
There are still some pretty important web directories out there. Based on your focus keyword and category, you'll an overview of all the relevant directories where you can submit your website.
Resources
Resource list are a great way to earn a link, because someone recommends you for being a useful (site, tool video, research, etc.) or just simply because you're the best.
Some example resource lists:

Top 10 teaching resources | Tes
Top 25 Colleges of 2015 – Forbes
Top 10 Resources Every Blogger Needs
The 25 Tools Every Entrepreneur Should Know About

Guest post
Writing for others can help you to showcase your knowledge and expertise and earn quality relevant links at the same time.
Q&A
Most "Question and Answer" sites use a nofollow policy, but just like guest post it can help you showcase your knowledge and get relevant referrer traffic to your website.
Review
Find bloggers how write product reviews and comparisons. Get more exposure for your product and possible a highly relevant link.
Wikipedia
Search Wikipedia for link opportunities like, dead links and requests for citation.

Dead links are links referring to external resources that no longer exist. If you have the right content to replace this external resource this can help you earn a link from one of the most influential websites to date.
Citation needed is a tag anyone can add to a certain claim they question to get a reliable and verifiable source which backs the specific claim.
Example: 87% of statistics are made up on the spot.[citation needed]

Social
Use social media as a sourcing tool for influencer marketing. Find the influencers in your industry on YouTube, Facebook, Pinterest, Reddit and other social platforms.
You might be interested in these related tools to make your day just a little more efficient: