In the world of SEO, you can get pretty far with basic knowledge and hard work. This is especially true when you're just starting out and have limited resources.
But as your site grows and reaches a bigger and bigger audience—and your team grows with it—there might come a time when you need to look at automation and tooling.
And when it comes to SEO software, Semrush and Ahrefs are the two titans in this space.
Comparing Ahrefs vs. Semrush
Below, we've compared Semrush and Ahrefs in seven major categories:
(Spoiler: We picked Semrush ;-))
We'll detail what each tool has to offer in each category so you can make a more informed choice about which suite you want to adopt for your business.
Semrush vs. Ahrefs: Keyword Research Tools
If you're looking for tools to support your SEO strategy, keyword research is probably one of your top priorities—if not the top.
So how do Ahrefs and Semrush match up? Let's compare.
Semrush has three dedicated keyword research tools, each with a unique purpose:
With the Keyword Magic Tool, you can build your keyword lists by searching Semrush's database of over 20 billion keywords (yep, you read that right), complete with tons of metrics and insights.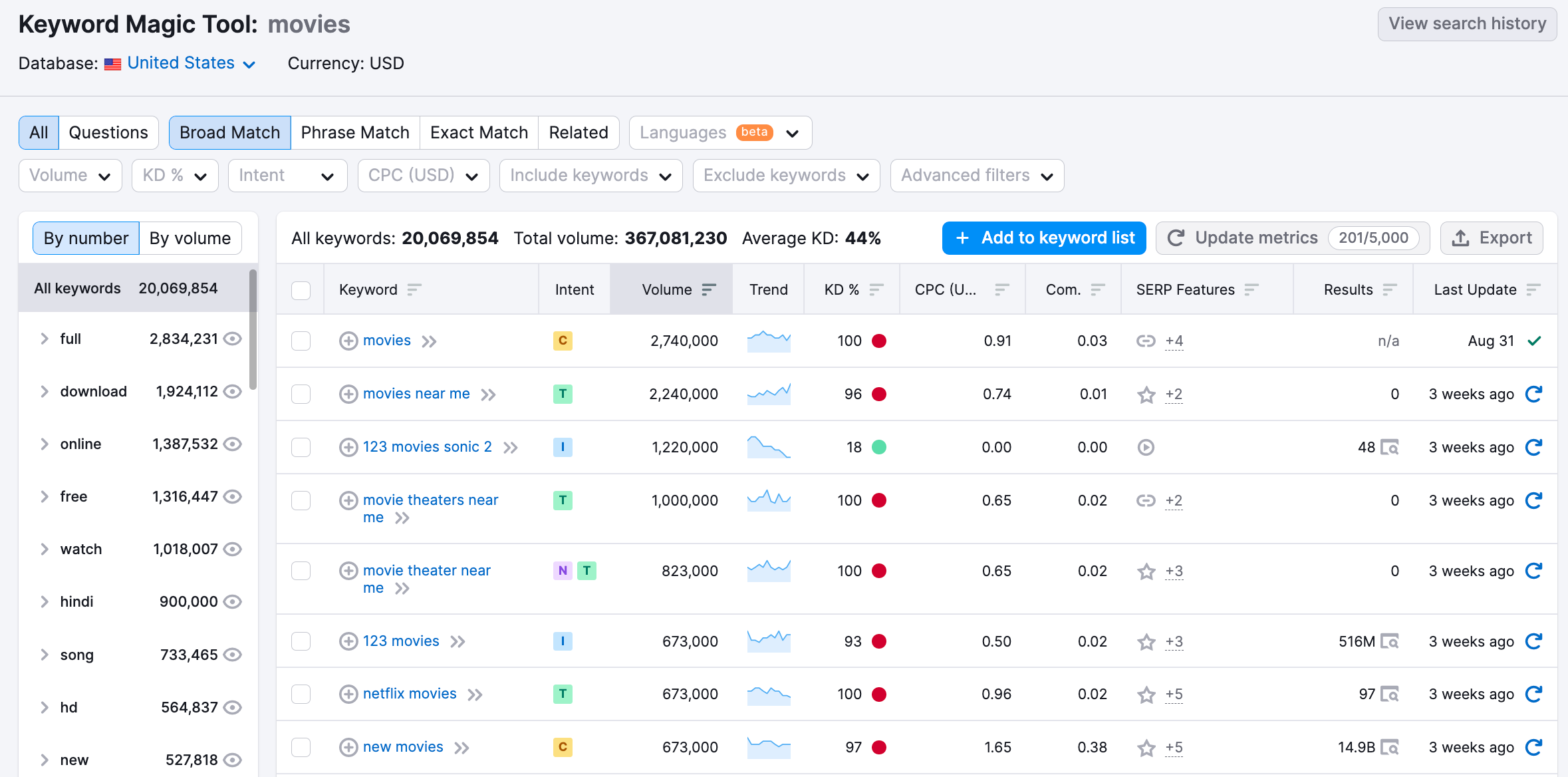 Keyword Overview is an in-depth report analyzing specific keywords in detail. Here, you can learn everything from how competitive a keyword is to its SERP features, volume, top results, trend, intent, and more.
Finally, with Keyword Manager, you can create and share keyword lists of up to 1,000 keywords per list. Group search terms with custom tags, and refresh metrics on demand for up-to-date analysis.
Meanwhile, Ahrefs has one dedicated keyword research tool: Keywords Explorer. With it, you can search, filter, analyze, and build lists from Ahrefs' database of keywords. You can also analyze a single keyword in-depth, as in Semrush's Keyword Overview.
But what do these tools actually tell you about each search term? Ahrefs and Semrush both show a variety of keyword metrics. Here's how they compare:
Semrush Keyword Metrics:

Ahrefs Keyword Metrics:

Search intent
Volume
Trend
Keyword density %
CPC
Competition
SERP features
Number of results

Keyword density
Volume
Clicks
CPC
Clicks per search
Return rate
Search features
Parent topic
Both have the same number of metrics, but they each provide slightly different information. For example, Semrush's unique offerings include search intent, a trend in search interest over time, and a competition score. Meanwhile, Ahrefs shows you clicks metrics, a return rate, and a parent topic.
In both tools, if you click on an individual keyword, you can explore it in greater detail. Both tools also allow you to send a keyword to a keyword list to review later.
Okay, but what about the actual data?
Semrush boasts a keyword database of 22.3 BILLION. No matter how you look at it, that's an enormous amount of keyword data. Not only that, Semrush can deliver up to 20 million keyword ideas for a single seed keyword and has keyword data for 142 different geographic databases.
By comparison, Ahrefs has a Google keyword database of 17.3 billion—five billion short of Semrush.
Content Marketing with Semrush vs. Ahrefs
Creating great content is one of the cornerstones of SEO. It helps you not only rank well, increase your reach, educate your audience, and build trust. So which tool supports content marketing more effectively?
Semrush's Content Marketing Platform includes five dedicated content marketing tools and covers the entire workflow of content planning, creation, and management. Users get full access to it starting with the Guru subscription.
First, the Topic Research tool helps you find high-impact topics to write about. All you have to do is enter a seed keyword and you'll be able to find trending subtopics, review real headlines, and find related searches and questions to target in your own content.
You can also prioritize suggestions by volume, difficulty, and efficiency (the ideal balance between search volume and difficulty).
Next, use the SEO Content Template tool to start building out your articles. Here, all you need to do is specify the keywords you want to target and Semrush will create an optimized brief to guide your writers, based on your top 10 Google competitors for those keywords.
When you're ready to write, the SEO Writing Assistant (also available as a Google Docs and WordPress plugin) can help you revise, providing targeted recommendations on tone, readability, keywords, and more. It can even check your draft for duplicate content.
Once you've published, Semrush still has two more tools.
First, Post Tracking can help you keep an eye on your content's performance on your top five target keywords. This is especially useful if you're publishing content externally (for example, writing guest posts).
Finally, the Content Audit tool can help you maintain your library of content. It categorizes your content based on the type of work it needs (e.g., rewrites, updates, quick reviews, and content that's too short).
Then, using data from Google Analytics and Google Search Console, the tool analyzes individual pages in more depth, including:
Sessions and pageviews
Bounce rate
Top 20 searches leading to that page
It also connects to Google Calendar and Trello, meaning that you can send your audit results directly to your tool of choice to continue working on it.
So how does Ahrefs compare?
Unlike Semrush, Ahrefs does not have any tools that help users brief, revise, or optimize their content.
Ahrefs users can start using Content Explorer on a Standard subscription, but this only helps users analyze the performance of competing pages. To use it, enter a seed keyword or topic to discover the top-performing content, authors, and publishers within that niche.
If you want to audit your current content, you can also use the Ahrefs SEO WordPress plugin. It analyzes each page on your site and identifies those in need of updating, rewrites, or deletion to help you prioritize your content management. However, it doesn't provide specific guidance on how to update each individual page.
Semrush vs. Ahrefs On-Page SEO Tools
As any pro knows, when it comes to on-page SEO, there's a lot you need to keep track of. Used strategically, a reliable tool can transform your processes and make sure you don't miss a beat.
Semrush has three dedicated on-page and technical SEO tools: Site Audit, On Page SEO Checker, and Log File Analyzer.
Ahrefs also offers a Site Audit tool.
First, let's compare both Site Audit tools side-by-side.
Semrush Site Audit

Ahrefs Site Audit

Max pages per crawl

Free: 100
Pro: 10,000
Guru: 20,000
Business: 100,000




Features

140+ checks
Site health score
Flagged issues sorted by priority (Errors, Warnings, Notices)
Issues include explanation and recommended actions
Compare crawls to track progress




Reports

Crawlability
HTTPS Implementation
International SEO (includes hreflang and HTML lang tags)
Performance
Internal linking
Markups
Core Web Vitals












Data

Core Web Vitals data is based on Lighthouse lab data collected under consistent conditions for the most objective measurements

Max pages per crawl

Lite: 10,000
Standard: 500,000
Advanced: 1.25 million
Enterprise: 2.5 million




Features

100+ checks
Site health score
JavaScript rendering on all subscriptions
External links issues
Saved filters on Pages report






Reports

Performance
HTML tags
Social tags
Content quality
Localization
Incoming links
Outgoing links
Images
JavaScript
CSS
External pages





Data

Core Web Vitals data is based on PageSpeed Insights, sampled from real user behavior, which means that if a page hasn't been visited, no data will be available. To access, users must provide an API key from Google.
Semrush offers a couple of other useful tools in addition to Site Audit.
Semrush's On Page SEO Checker can help you audit your site content based on the top 10 current competitors for your target keywords. As such, it's also useful as a content management tool. It integrates Site Audit data for more targeted technical SEO suggestions and examines things like user experience, content optimization, and even link building.
While Ahrefs offers a WordPress plugin with some similar features (described above in Content Marketing), it doesn't have the same technical SEO component.
Semrush's Log File Analyzer analyzes your site's access logs and reports back about how effectively GoogleBot can crawl your website. This can help you target and eliminate structure and navigation issues, manage your crawl budget, and more.
Semrush vs. Ahrefs: Competitive Intelligence Tools
It's one thing to analyze your own site. But can you put your performance into context without a thorough grasp of your competitive landscape?
Semrush has three dedicated competitive intelligence tools as part of their .Trends add-on: Market Explorer, Traffic Analytics, and EyeOn.
First, Market Explorer helps you understand where you rank in relation to up to 20 competitors in your niche, on a regional or global scale. With it, you can:
Get an instant overview of your whole market, including top players and their growth trends
Compare your market share versus the competition
Benchmark yourself against individual competitors or the market
Next, Traffic Analytics takes a deep dive into how one competitor performs. It can:
Analyze any website's traffic performance in detail
Identify a competitor's top performing pages and products
Understand a competitor's target audience's behavior
Finally, with EyeOn, you can monitor a competitor's blogs and ad campaigns and find out what's changed, to better understand their strategy.
While Ahrefs does not have dedicated market intelligence tools, you can do a good amount of competitive research with Site Explorer. For example, you can use it to analyze a competitor's site traffic, top content, and backlink profile, and then build your strategy using those insights.
That said, its solution isn't quite as comprehensive as what Semrush offers.
Link Building in Semrush vs. Ahrefs
With the right tools and the right strategy, link building can transform your site's visibility. And two of the most well-known backlink tools come from Semrush and Ahrefs.
So which one can better support you?
Semrush has three dedicated backlink tools, which together cover your entire workflow:
Backlink Audit analyzes the health of your current backlink profile by referring domain, authority score, publisher, type, and even anchor text. Then it provides actionable insights and enables you to contact site owners or build a disavow list quickly and easily. And if a backlink isn't toxic after all, you can easily whitelist it.
Backlink Analytics helps you compare your backlink profile to up to five competitors. Here, you can find a domain's new and lost backlinks, analyze its backlink trends, find its authority score, top linked pages, and more. Use it to create benchmarks, identify untapped opportunities, and expand your link building strategy.
Link Building collects all of your link building opportunities in one place so that you can identify more prospects, manage your email outreach campaign more easily, and analyze your progress—all without leaving Semrush.
Semrush's Toxicity Score metric is unique, and it's calculated based on 45 different toxicity markers.
Best of all, its backlink index is not only the fastest but also the largest on the market, with over 43 trillion links.
So how does that stack up against Ahrefs?
Ahrefs has several backlink indexes, including live only, recent (for live and lost within the past 3-4 months), and historical (going back to 2016).
Its Site Explorer tool also has seven different backlink reports, which can explore the backlink profile of any URL (yours or a competitor):
New/lost backlinks
Referring domains
New/lost referring domains
Broken backlinks
Anchors
Referring IPs
Internal backlinks
Both Ahrefs and Semrush allow you to compile, import, and export your disavow file. Ahrefs, however, does not have outreach functionality. As a result, its tools don't cover your entire link building workflow. The Ahrefs database is also smaller than Semrush's.
Local SEO in Semrush vs. Ahrefs
If your business has a local storefront, or if you serve only certain geographic regions, then local SEO is probably an important component of your digital marketing strategy. So, between Semrush and Ahrefs, which has the better local SEO offerings?
With Ahrefs, you can use two tools for local SEO:
Keywords Explorer, if you specifically search for regional keywords (e.g., "bakeries nyc")
Rank Tracker, to track your performance on target keywords at the city or postal code level
However, neither of those tools was designed for local SEO.
But Semrush, in addition to Keyword Magic Tool (which can also search for location-specific keywords) and Position Tracker (which can also track performance at the zip code level), offers Listing Management, a tool that was created specifically for this purpose.
With Semrush's Listing Management tool, you can:
Audit your business's local listings across the web
Automatically distribute your business data to the most relevant directories
Edit your business information in one location to update all of your listings at once
Track your performance in Google's Local Finder for up to five keywords and three postal codes per keyword
Best of all, it works in collaboration with Yext and Uberall, so you can use it in 28 countries.
Which Is More Cost-Effective, Semrush or Ahrefs?
Now that you've explored each tool's features, it's time to tackle the most important question of all: which one is more cost-effective without sacrificing the capabilities you need?
Both Semrush and Ahrefs have a tiered subscription pricing model, meaning the type of subscription determines how much you can do. In both cases, you can choose to pay monthly at full price or annually at a discounted rate.
Here's a detailed comparison of their subscription tiers:
Semrush Overview

Ahrefs Overview

Semrush Free

Price: Free
Ideal for: Curious users and SEO newbies




Semrush Pro

Price: $119.95/month
Ideal for: Small businesses, freelancers, and startups




Semrush Guru

Price: $229.95/month
Ideal for: Agencies and growing, mid-sized businesses




Semrush Business

Price: $449.95/month
Ideal for: Large agencies and enterprises

Ahrefs Lite

Price: $99/month
Ideal for: Small businesses and hobbyists




Ahrefs Standard:

Price: $199/month
Ideal for: In-house marketing and SEO teams




Ahrefs Advanced

Price: $399/month
Ideal for: Mid-sized, scaling businesses




Ahrefs Enterprise

Price: $999/month
Ideal for: Large agencies and enterprises
Ultimately, we think Semrush shows a superior value for the money compared to Ahrefs.
Why?
Despite the fact that Ahrefs offers some higher limits (for example, projects per plan and tracked keywords), Semrush ultimately offers more features for less money, even when you take add-ons into account.
To illustrate, let's take a look at agency-specific features.
Ahrefs has only one agency-specific benefit: a listing in their directory, offered only at the most expensive subscription level (Enterprise, at $999/month).
With Semrush, you'll need the Agency Growth Kit add-on to access its agency tools. That's an additional $150 per month on top of any paid subscription. But even combined with the most expensive Semrush plan, the price is almost $400 less than Ahrefs. And the Agency Growth Kit can do a lot more:
CRM for task management
White label reports
Secure client portals
Bid finder to target high value opportunities
So, Is Semrush or Ahrefs Better?
In SEO, we're all trying to stay ahead of the curve. And with the right set of tools, you can make that a lot easier on yourself and your team.
Ultimately, Semrush has our vote for the best SEO software suite. Why? In short, it's more cost-effective, has more (and better) data, and provides lots of functionality to enhance entire workflows.
Not convinced? Register for a free 30-day trial and see for yourself!